EZCodes
In an effort to improve customer service, ASL implemented a feature commonly referred to as EZCodes. EZCodes are a short-hand, simple way of referring to everyday products (usually pipe and fittings) that make them simple to find. Using EZCodes, our wholesale counter staff could quickly key orders for standard fittings without memorizing long, complicated part numbers or searching for them on the computer.
When you search for products like Showroom Fixtures, pumps, heating products, etc., searching with the part ID is the easiest way to find what you are looking for. Most of the time, the part ID is set as the EZ code for these items.
With a little practice, ASL Online users can take advantage of this useful feature to quickly find common products in our on-line catalog.
It is important to note that no two products can share the same EZCode. Additionally, EZCodes may share characters with descriptions of other products. For these reasons, it is crucial to ensure the correct product is selected.
How EZCodes Work
EZCodes are made up of a product's dimensions followed by it's type. For example, the EZCode for a 1/2 Copper 90° Elbow is: 12C90. As you can see the EZCode contains only numbers and letters. All other characters (like the "/" in "1/2") are dropped.
Here are a few common examples:
| Product | EZCode |
| --- | --- |
| 1/2" Galvanized 90° | 12G90 |
| 1-1/4" x 1" x 1" Black Tee | 11411BT |
| 2-1/2 CSA Schedule 40 PVC Pipe | 212CSA |
| 1/2 Type K Hard Copper Tube | 12K |
Not all products have EZCodes, but those that do show them on the product's screen:
Reducing Fittings
When trying to find a reducing fitting, you will need to add all sizes to the beginning of the shortcode—followed by the material type—followed by an R for reducing. Lastly, add the fitting type.
| Fitting | EZCode |
| --- | --- |
| 2 x 1-1/2 x 1 Copper Red Tee | 21121CRT |
| 1 x 3/4 Copper Coupling | 134CRC |
| 3/4 x 1/2 Copper Coupling | 3412CRC |
| 1 x 3/4 Copper Red 90 | 134CR90 |
How to read a tee
The diagram below shows a reducing tee. Read the two end sizes first (called the 'run' of the T) with the larger size going first, then the branch of the T last.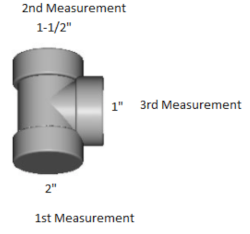 Here we show a 2 x 1-1/2 x 1 Reducing Tee.
Examples in different material types:
Black Mall – 21121BRT
Copper – 21121CRT
Schedule 40 – 21121P40RT
Some of the common EZCode fitting types are as follows:
| Code | Fitting Type |
| --- | --- |
| A | ABS |
| B | Black Malluable |
| C | Copper Pressure |
| MJ | MJ Cast Iron |
| P40 | Sch40 PVC |
| PP | ProPress |
| PL | Pex Crimp Fittings |
| P | PVC DWV |
| SB | Sharkbite |
| Z | Brass |