About Us
Andrew Sheret Limited is a 4th generation BC owned and operated company that has been in existence since 1892. The company is proudly employee and family owned, with its Head Office located in Victoria, B.C. The recent amalgamation with Frontier Plumbing & Heating Supply makes Andrew Sheret Limited proud to operate 31 locations across British Columbia, Alberta and Saskatchewan.
Andrew Sheret Limited is a leading wholesale distributor of plumbing, heating, air conditioning, fireplace, irrigation, pumps, water filtration, waterworks and fire protection products. These products are supplied to the mechanical trade, cities, municipalities and retail consumers.
Our retail division is known as Splashes Bath & Kitchen, and showcases top brands of quality kitchen and bathroom fixtures and accessories. Knowledgeable showroom consultants are happy to assist, share expertise and provide product recommendations to home owners and trade customers for both renovation and new home projects. Splashes Bath & Kitchen showrooms are located in 25 of the Andrew Sheret Limited locations across British Columbia, with plans to open showrooms in Alberta and Saskatchewan in the near future.
Our eCommerce division is known as PlumbingOnline.ca and allows Canadian customers to purchase trade and showroom products online. With distribution centres across Canada and expertise from Andrew Sheret Limited employees, PlumbingOnline.ca provides customers with technical product support, fast delivery times and competitive pricing.
While a lot has changed since 1892, the core values of the company remain unchanged: a commitment to supplying quality products at competitive prices, being fair and ethical in our business dealings, and re-investing in the company and its employees.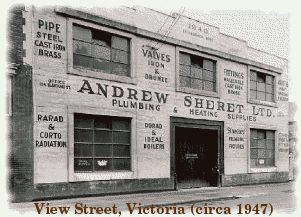 History
Andrew Sheret was born in 1870 in Montrose, Scotland. After his schooling, he apprenticed as a plumbing and heating tradesman. On Victoria Day, May 24th, 1890, Andrew relocated to Victoria, BC. For a short time, he found work with McLennan and McFeely Hardware. In 1892, he went into business as a plumbing and heating contractor and opened a shop on lower Fort Street. Over the next 20 years, Andrew built up a very successful business, supplying plumbing and heating supplies to Victoria customers. During the prosperous 1920's, Andrew gradually eased out of the retail business and into wholesale distribution. In 1921, he sold the retail side of the business to three former employees. Andrew Sheret stayed active in the business until his death in 1947.
After Andrew Sheret's death, his eldest son, Andrew William Sheret (Will), stepped in as President of the company, a position he held until 1992. Under Will's leadership, Andrew Sheret Limited was the first in the industry to implement a pension plan and one of the first businesses anywhere with a company-funded medical plan. Like his father, Will maintained an active role in the company until his death in 1998.
Will's son-in-law, Brian Findlay, became President of the company in 1992. Andrew Sheret Limited realized significant growth under Brian's leadership, including the expansion of 11 branches during his tenure and the implementation of a share participation program for employees in 2001. Brian was also instrumental in establishing a national buying group to provide individual companies, like Andrew Sheret Limited, the ability to remain competitive with national companies. Brian retired from Andrew Sheret Limited in 2015, with his son, Eric, succeeding him as President. There is no doubt that Andrew Sheret would be proud to see the legacy of his company continue as his great-grandchildren assume leadership of the company with the vision to advance the family business well into the future.
The growth of Andrew Sheret's company has reflected the pattern of the 20th century: starting slowly and gradually expanding when required. The company that Andrew Sheret founded in 1892 has moved steadily forward, responding to needs and anticipating trends. This has required not only vision but human resources. The successful history of Andrew Sheret Limited reflects the dedication of the employees both past and present, and has recognized the value of its employees through various initiatives.
Business has certainly changed since 1892, but even today in the 21st century, principles of fairness toward employees and strong customer service continue to be the focus of the company. In many ways, the history of Andrew Sheret Limited parallels that of Canada's: both were built on a foundation of hard work from their earliest citizens and are maintained by a society that values an entrepreneurial spirit and a responsible social conscience.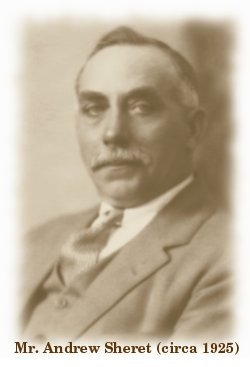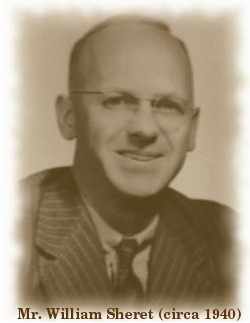 Associations
Andrew Sheret Limited is proud to be a member of the following associations in BC or across Canada:
Community Support & Charities
Andrew Sheret Limited proudly supports the following community events and charities:
The following is a list of the Post Secondary Institutions Andrew Sheret Limited supports through bursaries or donations:
Announcements & Upcoming Events
We are closed on September 30, 2023
---
All Andrew Sheret Limited branches will be closed for the National Day for Truth & Reconciliation on September 30, 2023. We appreciate your understanding.
Full Article
Announcements and Events
Top