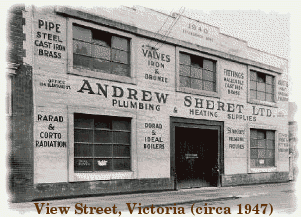 Andrew Sheret Limited is a B.C. owned and operated company, and has been in business for more than 120 years. The company is proudly employee and family owned with our Head Office located in Victoria on Vancouver Island. With 22 locations across the province, Andrew Sheret Limited is well represented throughout British Columbia.
The company has specialized in and distributed a variety of products in several fields since 1892, some of which now include: Plumbing, Heating, Air Conditioning, Fireplaces, Irrigation, Pumps, Water Filtration, Solar and Water Works. Andrew Sheret Limited focuses on sales and distribution of both North American and international products but does not participate in product installation. We supply these products to cities, municipalities, trade and retail customers.
Our retail division is known as Splashes Bath and Kitchen Centre, and currently 20 of our 22 locations have a retail showroom adjoining our wholesale business. Our showroom consultants provide excellent product recommendation and knowledge, and can assist with both renovation and new construction design ideas.
Andrew Sheret Limited is affiliated with Frontier Plumbing and Heating Supply, which operates 7 locations in Alberta and Saskatchewan.
History
Andrew Sheret was born in 1870 in Montrose, Scotland. After his schooling, he apprenticed as a plumbing and heating tradesman. On Victoria Day May 24th, 1890, Andrew relocated to Victoria, B.C. For a short time, he found work with McLennan and McFeely Hardware. In 1892, he went into business as a plumbing and heating contractor and opened a shop on lower Fort Street. In the next 20 years, Andrew built up a very successful business, supplying plumbing and heating to Victoria.
During the prosperous 1920's, Andrew gradually eased out of the retail business and into wholesale distribution. In 1921, he sold the retail side of the business to three former employees.
Andrew Sheret stayed active in the business until his death in 1947. Andrew William Sheret (Will), his eldest son, stepped in as President, a position he held until 1992. Will Sheret continued an active interest in the company until his death in 1998. Brian Findlay became President of the company in 1992 and remains in the position today. The proud legacy continues with Mr. Andrew Sheret's great grandson, Eric Findlay, Vice President, as he takes on many facets of the company and prepares to continue the family business well into the future.
The company continues to expand with 22 locations in British Columbia and has embarked on an aggressive showroom program, operating 20 retail plumbing showrooms under the name of Splashes Bath and Kitchen Centre. These showrooms are leading the industry in terms of quality and bathroom designs.
The growth of Andrew Sheret's company has reflected the pattern of the 20th century, starting slowly and gradually expanding when required.
The company that Andrew Sheret founded in 1892 has moved steadily forward, responding to needs and anticipating trends. This has required not only vision, but human resources. The successful history of Andrew Sheret Limited reflects the dedication of the employees both past and present.
Under Will Sheret's leadership, Andrew Sheret Limited was the first in the industry to implement a pension plan, and one of the first businesses anywhere with a company funded medical plan. A share participation program for employees was begun in 2001.
Business has certainly changed since 1892, but even today in the 21st century, principles of fairness towards employees and strong customer service continue to be the focus of management.
In many ways Andrew Sheret Limited's history parallels that of Canada's. Both were built on a foundation of hard work from their earliest citizens and are maintained by a society that values an entrepreneurial spirit and a responsible social conscience.